Lazy Housewife Summer Disciplined Part 1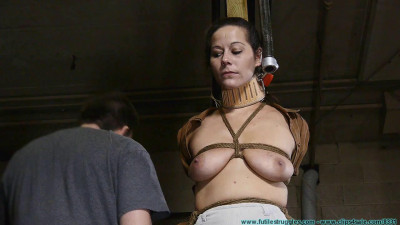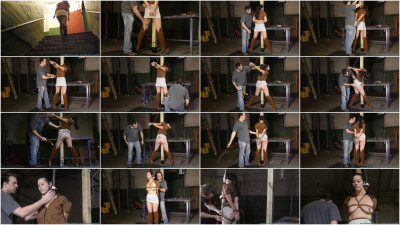 File size: 624.6 MB
Format: mp4
Duration: 27:59
Video: 1280×720, AVC (H.264), 2921kbps
Audio 118kbps
Summer has been very lazy for the past few months and her husband has had enough. He works 12 hours a day and Summer's only responsibilities are keeping the house clean, laundry, and cooking. She has not been doing any of them satisfactorily as of late. She's been out partying until 4am and then napping until 2pm. He's had enough. He tells her to meet him at his shop as he plans on taking her out to a nice dinner. The clip starts with her coming through a door and then up several flights of steps and then down several long halls. She knows she's in trouble when she enters the shop. He grabs her by her hair and walks her over to a 4×4 wooden post and makes her face it. He grabs her arms and pulls her wrists behind her back. He orders her to spread her legs. He then binds her wrists. He uses another length of rope to tie her wrists up high on the post, pulling her arms up cruelly. He ties her at the waist as well. He stands back and admires his handy work, before grabbing a leather belt. He folds it in half and whips Summer's ass. She twists and lets out a deep breath. She wasn't ready for that. He whips her several more times. Summer still has to much movement for his liking, so he ties her legs apart to the table butted up against the post. He lifts her skirt, spanks her with his hand for a while before picking up the belt again. You can tell by her expressions that she is not enjoying herself at all. Now it's time for the belt again. Even though she is bound pretty tight, she is very flexible and still manages quite a bit of movement as she squirms as the whippings continue. He eventually grabs her by her hair and continues whipping her ass with the belt. Her knees drop and her breathing gets heavier. She starts making promises to be better, but he's been through this before. Whipping and spanking Summer just doesn't work, so this is just the beginning. He has something else in mind. He stops for a minute to collar Summer… it's not really a collar, but an old hospital leather ankle restraint. It fits her neck just barely. Her face immediately turns a bit purple. He continues whipping her with the leather strap. She eventually starts whimpering. He decides to start phase 2 of her discipline. He unties her ankles and her waist. He turns her around and locks her collar to a solid steel pipe, so she can't get away as he binds her further. He rips open her shirt and then yanks her strapless bra down. He grabs some rope and starts binding her. The rest of the clip is of Summer being roped up.
Download from FileMonster:>>>
DOWNLOAD

If you are a premium user, you can directly watch or stream this video. Free users can watch 30 short previews per 24 hours.
[fm_video]
Download from FileMonster:>>>
DOWNLOAD